Choosing the color of wooden door for bedroom is as important as choosing one for the front door. Bedroom is a private place exclusive to the family members the color you hose for its door should talk about your personality and at the same time compliment the design of your home. Before we look at the wide variety of color choices for the bedroom door, use the blow tips to bring a great variety to your interiors by the door paint.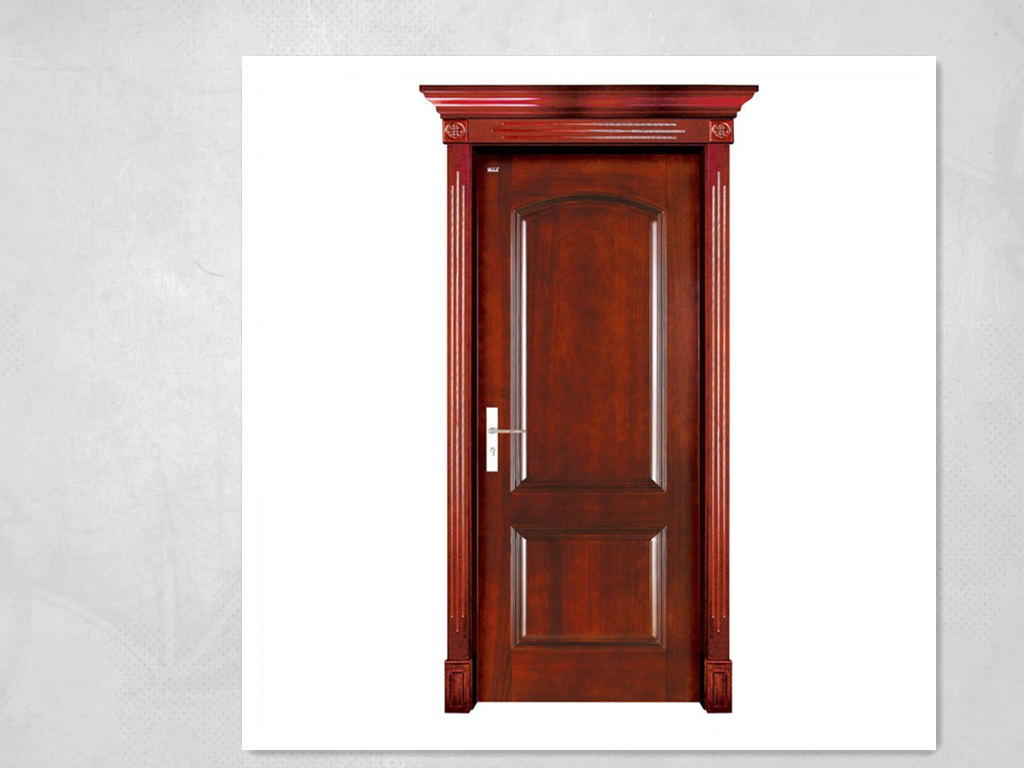 1. Walls with bolder shades
If our wall is painted bold, using the same bold color to your wooden bedroom door as the wall brings a great sense of artistry to your home. Same colored walls and bedroom doors will make your room look classy
2. Right color for awkwardly placed doors
Using the same color for the door as the wall for smaller rooms, and the ones with door at awkward places will give a subtle yet great look for the house. This will also hide any anomalies in the design.
3. Rooms with wallpapers
Paint the wooden bedroom door with darker shade if there is a wallpaper in the bedroom. The darker door will excellently compliment the brighter colours ofthe wallpaper.
4. Well ventilated rooms
Same colored bedroom door as the walls of well aired house has great sense of style quotient. If the walls are light, use the same shade to the wooden door for bedroom, and similarly paint it dark if the walls have darker shade.
5. Outline the bedroom door for greater look
Outlining is an effective technique to bring out greater details of the door. For better effect, outline the door and use deep paint color for the trim. Outlining each grove with same color for raised panels in the door is another great way tobring a defined look to the door.
6. Use Black to standout
While we discuss various color choices shortly, one sure shot way for your bedroom door to standout is by painting it black. This works reasonably well against both light colored and dark colored walls.
Now that we have seen various tips to paint the wooden door for bedroom for greater looks, let's look at some color ideas
10 Great Color Ideas for Wooden Bedroom Doors
Soothing Greys
Grey doors maintain an excellent balance between bolder blacks and dreary whites. In that sense it's a safe color to use and they do bring a brilliant warmth to the interiors of a house.If you are not ready to use darker shades for your wooden bedroom door, go for this amazing shade.
Classy Whites
If you do not like darker colours, or have lighter interiors and does want to go with greys, use white shade for bedroom doors for that classy look. If maintenance is not particularly a problem, white door for white walls bring that matchless graciousness to the interiors. However you have to be careful about the other accessories of the door like knobs and bolts being subtle too to blend in well.
Bolder Blacks
If you have decided to go with black for your bedroom door, selecting the right shade or proportion of black could be trickier. A complete black is bolder but also pretty tougher on the looks. A black with a tinge of brown will make the color more refined and pleasing. Nonetheless, black can bring a unique profile to the interiors. Black also brings Classic Browns. You can never go wrong with brown colored doors. Whatever is the paint of the wall, a brown color wooden door for bedroom can be classy and effortless. Just make sure that the brown you chose is plain one and a color in itself without any other shades. Brown doors are often the safest bet if you aren't sure about the color. Browns can also be a better alternative to complete black and grey doors.
Gentle Blues
While a darker shade of blues can be off put for interior doors, milder shades chosen correctly can bring vivid and neutral shades to your room. Right shades of blue for bedroom doors can bring stunning contrast image to the overall image of the house. A blue door with neutral hues can make the room look really classy and
inviting.
Blushing Pinks
Lighter pinks add a very warm touch to the interiors of a house. You just have to be careful with the shade such that it does look like a little girl's room. A neutral pink that is nimbler on tone can add amazing hues to a house with contrastingly painted walls. They also compliment the walls with lighter paints too real well.
Vibrant Yellows
Yellows can be trickier colors to work with. A wrong shade of yellow make your door look very gaudy and out of place. However, a vibrant but not too dark yellow wooden door for bedroom standout against white walls. If you are ready to experiment a little without too much risk for a lively interiors, paint your bedroom door yellow. We are sure you'll love it.
Pastel Yellow
Though have a stark contrast in true sense, pastel yellows are also not an easy to work with just like the darker shade. However, a rightly picked neutral shade of yellow can bring that charm to your home. They also bring retro look which never goes out of style. To bring that old world allure to your house, use pastel yellow for your wooden bedroom door.
Lively Green
Another vibrant color, green is one more shade which chosen properly can bring a great sense of appeal to the interior knocking out the boringness. Just make sure not to select too darker shades like olive which can look very garish. A right amount of green on the door against white walls will make the interiors look vivacious.
Accent Red
Red can be a difficult color to pull off on doors on so many levels.It can be absolutely catastrophic on your interiors if not done properly. Saying that, it can bring brilliant retro look to your home if you use a brighter shade against lightly painted walls. Add this to your wooden bedroom doors and you are sure to have heads turned when people come visiting your home
So decide on the what style you would like to have for your wooden door for bedroom using the tips we have given and compliment it with the shades of color we have suggested above. Whatever you chose, remember that it should go well with your personality and be about what you like than what others chose to have. So don't be afraid of experimenting. Have a happy and pleasant home!