Among the few ways of brightening your restroom, you can have it painted in white color. The white color makes the bathroom seem magical and chilly as well especially when you use the white bathroom door. The white color has got some associated mood, temperature, style, and light reflective with its history and maintenance. The main thing you need to do is to blend your bathroom with some other dull colors to make it look perfectly amazing. Most bathrooms are small, and some tips magnify their views.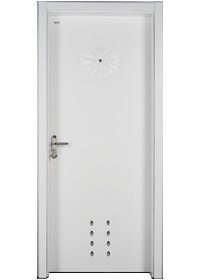 How To Magnify Your Small Bathroom
1. Paint Colors For Small Bathroom
You need to paint the color that is bright from your bathroom door to inside. White colors are mostly reflective; hence it makes the spaces airy and open. The light colors also augment the natural light effect. Cream and white color are best when applied to your small bathrooms since they will magnify the room.
2. Keep The Same Tone
It is not a must to maintain the same color in all rooms after you apply in your bathroom. However, you can keep the colors with that exact tone if you need the bathroom to be the beautiful master you want.
3. Blend Wall Color And Tile Color
Most people can't accommodate having white color in everything inside the bathroom especially after having a white bathroom door. You can decide on blending wall color with shower tile to be golden. When you blend the tile and wall, it makes a continuous space feeling in your room which will be like one large room. If you become lucky with ceramic tile, then paint it, and it will blend in your bathroom.
4. Paint Same Color To Wall And Ceiling
The similar bright color trend is currently emerging. Small bathrooms are fond of having short ceilings so you should not apply dark color on them since they will seem low. You can paint white if the walls are white too since they will make one concentrate on the ceiling line. When the same color is applied for ceiling and wall, then your eye will be able to travel on the space effortlessly, that will give it a large bathroom color.
5. Paint Stripes Vertically For Small Bathrooms To Be Taller
There are wider and taller bathrooms. If bathrooms have a short ceiling, then you need to paint its walls with vertical stripes to make it seem larger. When the bathroom is painted, it is enabled to guide your eye on a small bathroom. When vertical stripes are used, it enables one's eyes to go up and everywhere the bathroom which gives it a feeling of being larger than the normal size.
6. Paint Stripes Horizontally For Small Bathrooms To Be Wider
Some bathrooms that have tall ceilings but with small space. You don't need to worry about them since you only need to apply bright color painting stripes on the walls in a horizontal manner so they can perfectly guide your eyes in the bathroom. By doing this, the bathroom vision will be having a large appearance provided the patterns and lines are perfect.
7. Apply Light Colors On Molding, Windows, and Doors
Apart from ceilings and walls, you can also apply lighter colors on the windows, the molding, and very important, on the bathroom door. They should be painted using extremely lighter colors as compared to your walls. By having a white bathroom door and windows, it makes walls be further back hence magnifying the small bathroom.
8. Color The Unexpected Accents In The Small Bathroom
You can paint the radiator or use some vibrant shower curtains that add colorful bathmat. Especially when your corridor towards the bathroom has a darker color, then use a lighter tone of the same color inside the bathroom. It will also fool your eyes to seeing a bigger bathroom.
9. Paint Bathroom Accent Wall
You should paint some statement accent wall. You need to choose the light color you love. Despite the color, you are selecting is the statement wall, you need to ensure it blends the overall theme you are using. When applying colors in your bathroom, we have seen that lighter colors work the best which are mostly cream and white. When you have a white bathroom door, definitely you will be having the best light color to start by nourishing your small bathroom so it may appear to be bigger and accommodating.
For more details about bathroom door, you can check at the website.