The door is responsible for receiving your guests, so it is the first impression they will have of your house and those who live in it. A beautiful and well-kept door will speak very well of you and opens the imagination of what you will find when you cross it. However, the door must be prepared to prevent unwanted visits.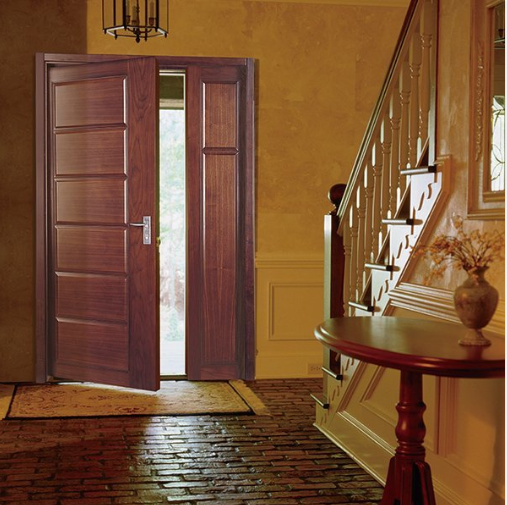 What Makes An Entry Door, There are three main parts that make up an entrance door.
The frame: it is the fence that surrounds the door and that serves to reinforce it.
The sheet: Composed of an interior of agglomerate, sheet steel and an exterior finish that can be in metal, wood, lacquered or PVC among others.
Door Lock: Composed by the lateral anchors that are placed in the frame of the door, the lock, the hinges, and the anti-lever anchors.
Depending on the materials and characteristics of each of these parts, there are different levels of door protection:
Armored: with sheet and steel frame (on which you can place the finishing material you want). These doors offer the highest level of security. Due to this, its price is the highest in the market.
Ironclad: the armored doors instead of being made entirely of steel, have a metal reinforcement only on the sheet. These doors are made of wood reinforced with steel sheet. They are still expensive but the price is significantly lower than the armored ones.
Aluminum: Similar to an armored door but without the specifications and technical requirements. Even so, it has a similar function but at a lower price.
PVC doors: They are versatile and available in all types of finishes. If you like double wooden doors you can cover your door so that it appears to be solid wood.
Wood: wood is an ideal material because it has good strength and low density. It is easy to manipulate and good availability. It offers versatility in your designs where you can choose from a simple wooden door, a swing door or a beautiful double wooden door currently so fashionable.
Security Is In The Lock
While the sheet and frame are vital in a doorway, the choice of lock and ironwork cannot be neglected. Find that your locks are composed of cylinders that have safety pistons and preferably that the door integrates several independent pistons so, in case of a forcing one, the others will hold in place. It is advisable to choose a lock model that has a key with copy control so that it cannot be duplicated easily.
You can also choose an electronic lock with fingerprint control, Hollywood-style iris recognition or remote access control via a mobile device. That's how advanced technology is. You no longer need a heavy door and design less to be protected. Always a good lock will be more than a guarantee.
The use of wood in carpentry and construction presents several advantages:
1. Ecological:
It is a renewable forest resource whose sustainable use and subsequent processing do not harm the environment. There is no need to invest in energy for its production since trees use solar energy for their growth and development. The energy used for the creation of wood items such as beautiful double wooden door is much lower than that needed for aluminum, steel or PVC. At the end of its life cycle, wood can be recycled into other products. Wood acts as a sink for CO2 (Carbon Dioxide) and therefore helps mitigate climate change.
2. Security and resistance
Due to its weight, strength, and stability, wooden doors have the property of being safer. The wood is additionally resistant to high temperatures without deformation and is an excellent insulation material due to its low thermal conductivity, which allows the heat to be stored inside. It also works as an efficient acoustic insulator.
In isolated homes, the door should not only be safer than a door in an apartment building because it is more susceptible to external intruders but have a resistant finish that protects it from the inclement weather changes.
3. Versatility
Wood is one of the most used elements in buildings. It is very common not only on doors but also on ceilings, floors, and windows, among others. Wooden doors can be combined with other elements such as glass and stone. The double wooden doors are a great aesthetic element both indoors and outdoors. In addition, the wooden door adapts easily to any type of environment.
4. Wide variety of styles
In wooden doors, there is room for many styles. From gates with rustic air, through doors with minimalist shapes, to the majestic double wooden doors.
The double doors are a very recurrent option with which great advantages are provided to space. With great versatility and a careful and personalized design that makes them the perfect resource for all types of environments. One of the advantages of double wooden doors is the great luminosity they bring to spaces. The functional character is a strong point. When it comes to moving, replacing furniture or carrying out renovations, the double wooden doors ease the passage between rooms giving a double space than a simple door. They are perfect for places with high traffic of people providing more light and comfort to visitors.
The aesthetic benefits of wooden doors are not forgotten for their functionality. On the contrary, the care of every detail, the majesty of its two sheets and the possibility of choosing from a multitude of models and finishes, makes it a unique, personalized and decorative element.
In conclusion, the double wooden doors are still by far the most desired by buyers and builders because the elements in wood have a particular grace that provides natural warmth, as well as being a leading and decorative element in any environment. However, there is always a concern that the wooden door is not safe enough. We have long known that doors are the main barrier between the exterior and interior of a particular home. This does not mean that you should give up a beautiful wooden door over a large, heavy and with no style security door. If you want to preserve the beauty of a wooden door with the security of an aluminum door you can always reinforce it with steel plates on the inside, metal fences, and a good security lock. If you are not sure about the type of double wooden door you need, then you can contact us. Our experts have all the necessary skills to ensure that they provide you with the right information.