On the Double Ninth Festival, RCCZ Showed love to the elders at resthome. On 16th, Oct., under the organization of the Lanzhou Jiangzi Weimin Housekeeping Company who joined in the Xu'ni Resthome in Chengguan District, Lanzhou City, the more than 100 elders spent a happy Double Ninth Festival.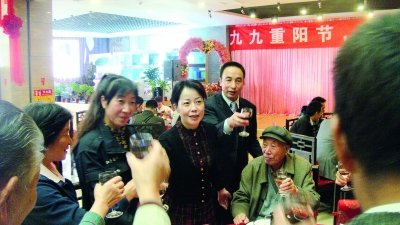 On the Festival, the air was filled with the elders' laughter. The staff of the Jiangzi Weimin company performed programs edited by themselves for the elders. With practical action, practical spirit and practical spects, the company often arranged staff to clean, cook, washing, chat, reading etc. for the elders in the resthome since they joined the resthome. All of these activities let the elders feel the warm of human.

Mr. Wang Ruyong, the principal of Jiangzi Weimin Company ( the Franchisee of RCCZ in Lanzhou), said "I'm happy to input some of the money earned by selling solid wooden door and hardware on taking care of these elders. To love elders today is to love myself in future."