RCCZ's "Patres" wooden door awards the gold award of " Prize for the Best Wooden Doors Trends" on the 2009 CTC Cup China Original Wooden Doors Design Competition"

Manufacturing Technology of "Patres"
"Patres" takes the Fir Glulam as its basic material for its Fang Bian and other parts via the processing of precision cutting saw, banding, sanding, hot pressing, which make it avoid the distorsion of the basic material and the bending of the wood door. The embossed plate is handcrafted with solid wood. The veneer are processed as the same of the basic material. The pool door is made of midium density fiber. While its door leaf is quickly assembled via tongue-and-groove and wood nog on machine.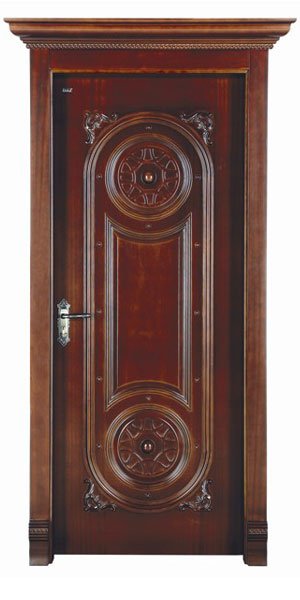 Design Idea of "Patres"
The vision focus of its outlook can be sourced back to the shield used on the battle field at the European Middle Ages. It borrows the shield's decrative beauty to show its characteristics--solid and reliable.

The upright pyramid line makes it prominent; the solid wood embossed ornaments add luxury and solemn to it; and the wooden stud shows its hard steel.

Its name--Patres means that "the protector of the nobles" to show its strong function and its oriented customers. The upper and lower axial symmetry and the circle of well structure not only meet the oriental aesthetic taste and hide the oriental philosophy, but also shows the occidental delicacy.